One of the most important steps for fall lawn care is the application of fertilizer before the weather takes a cold turn. This is essential, because your grass needs to have enough nutrients to help it remain healthy during the winter, and to be able to have a jumpstart in the spring when the weather begins to warm back up again.
It's a common misconception that once the warm weather growing season is over, lawn care is no longer a priority. Or that once the lawnmower is put away, the lawn is essentially done for the year. The truth is, your lawn still has a lot going on, but it's just below the surface. Generally, lawns experience a lot of underground root growth throughout the colder months. By making sure your lawn is properly cared for in the fall, you will be rewarded with a much healthier lawn in the spring which, in turn, will make your spring lawn care much more hassle-free.
To begin your fall fertilizing, it is a good idea to thoroughly water your lawn the day before applying fertilizer. For fall lawn care, nitrogen is the most important ingredient. The easiest way to ensure
consistent application across your entire lawn is to use a spreader. When using a spreader, it is best not to fill it with fertilizer while being parked on the grass. This leads to the possibility of spillage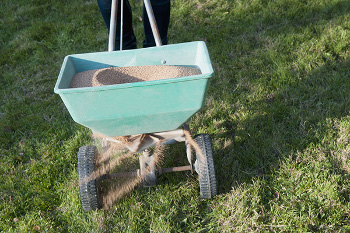 onto the grass which could then cause what is known as grass burn. Additionally, make sure you read the instructions thoroughly to ensure that you'll apply enough fertilizer, under the right conditions, and at the right intervals.
Renting a spreader is a very economical option, since it is far less expensive than buying one outright. When you consider that you may only use a spreader once or twice per year, it would take several years of renting one before reaching the cost of buying one. In addition, valuable storage space won't be tied up with one more piece of equipment that, though helpful, is only needed certain times of the year.